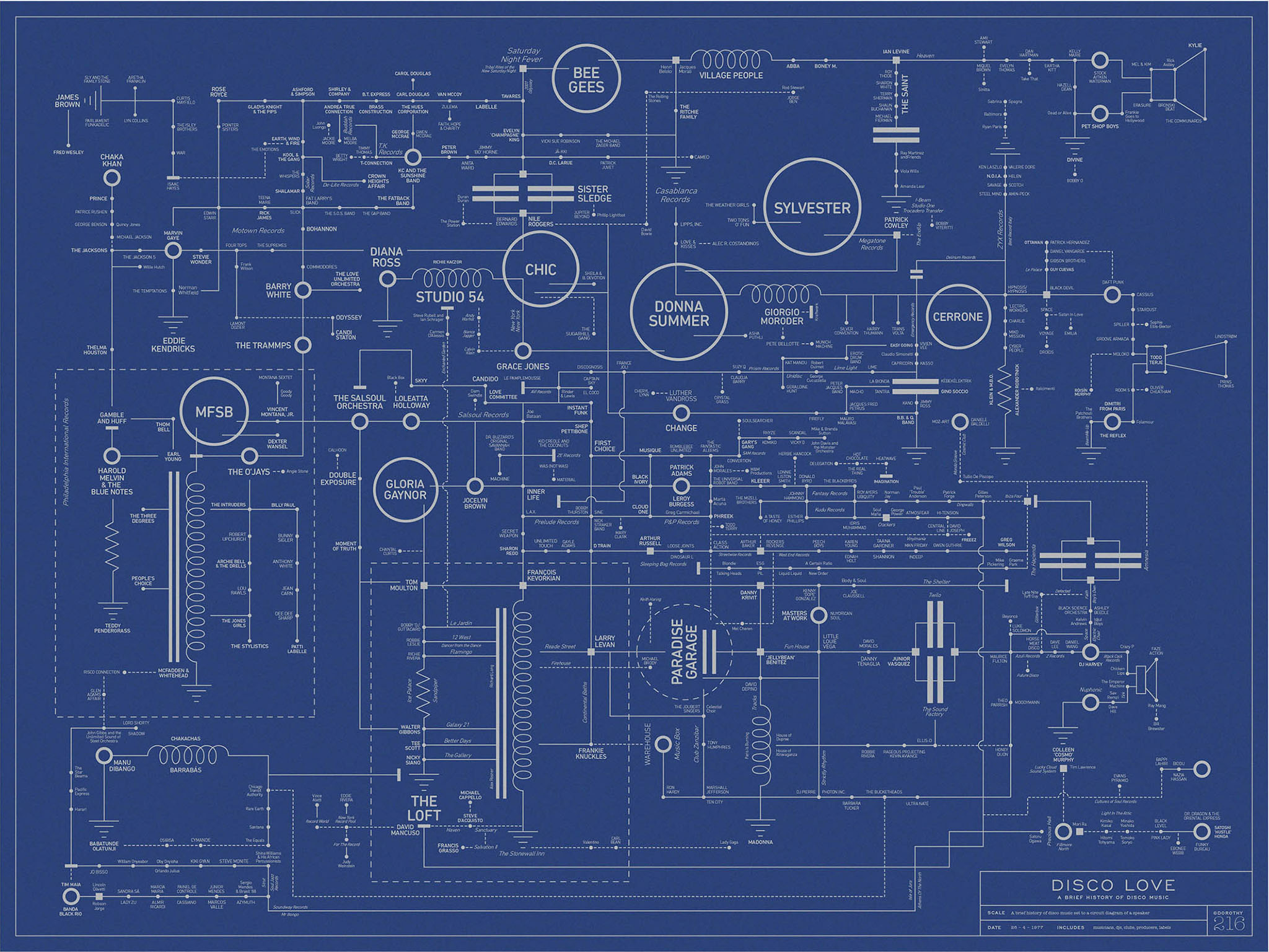 Half a century after it was birthed in New York's black, Latino and gay underground club scene–and nearly 45 years after the infamous Disco Demolition in Chicago's Comiskey Park–disco is finally being accorded some respect in the annals of music history.
Even those who remain impervious to disco fever seem willing to acknowledge its cultural significance as evidenced by a recent exchange on the Trouser Press forum:
It was everywhere and could indeed get tiresome. But today I can appreciate how well put-together those records by an artist like the Bee Gees were…
Hearing techno for the first time in the early 90s, and realizing it was just disco in a new, all-electronic package, made me realize how good a lot of it was…
I remember seeing (A Taste of Honey) on The Midnight Special. It was the first time I'd seen a band with female members playing instruments…
Having previously celebrated the history of hip-hop, UK-based design studio Dorothy gives disco its due with a blueprint paying tribute to the many artists who made the form what it was, from foundation layers like Teddy Pendergrass, Marvin Gaye, and James Brown to such trailblazing superstars as Donna Summer, Gloria Gaynor, Sylvester, Chic and the Bee Gees.
The Disco Love Blueprint also name checks some of disco's influential producers, DJs, and labels, along with watershed moments like 1969's Stonewall Uprising and 1977's Saturday Night Fever, reportedly film critic Gene Siskel's favorite movie.
And while the disco explosion eventually saw young straight singles doing the Bump in Indianapolis, Phoenix, and Spokane, Dorothy sticks close to the epicenter by including such legendary New York City clubs as Studio 54, The Gallery, Paradise Garage, The Saint, and The Loft, a private discotheque in DJ David Mancuso's Lower Manhattan apartment.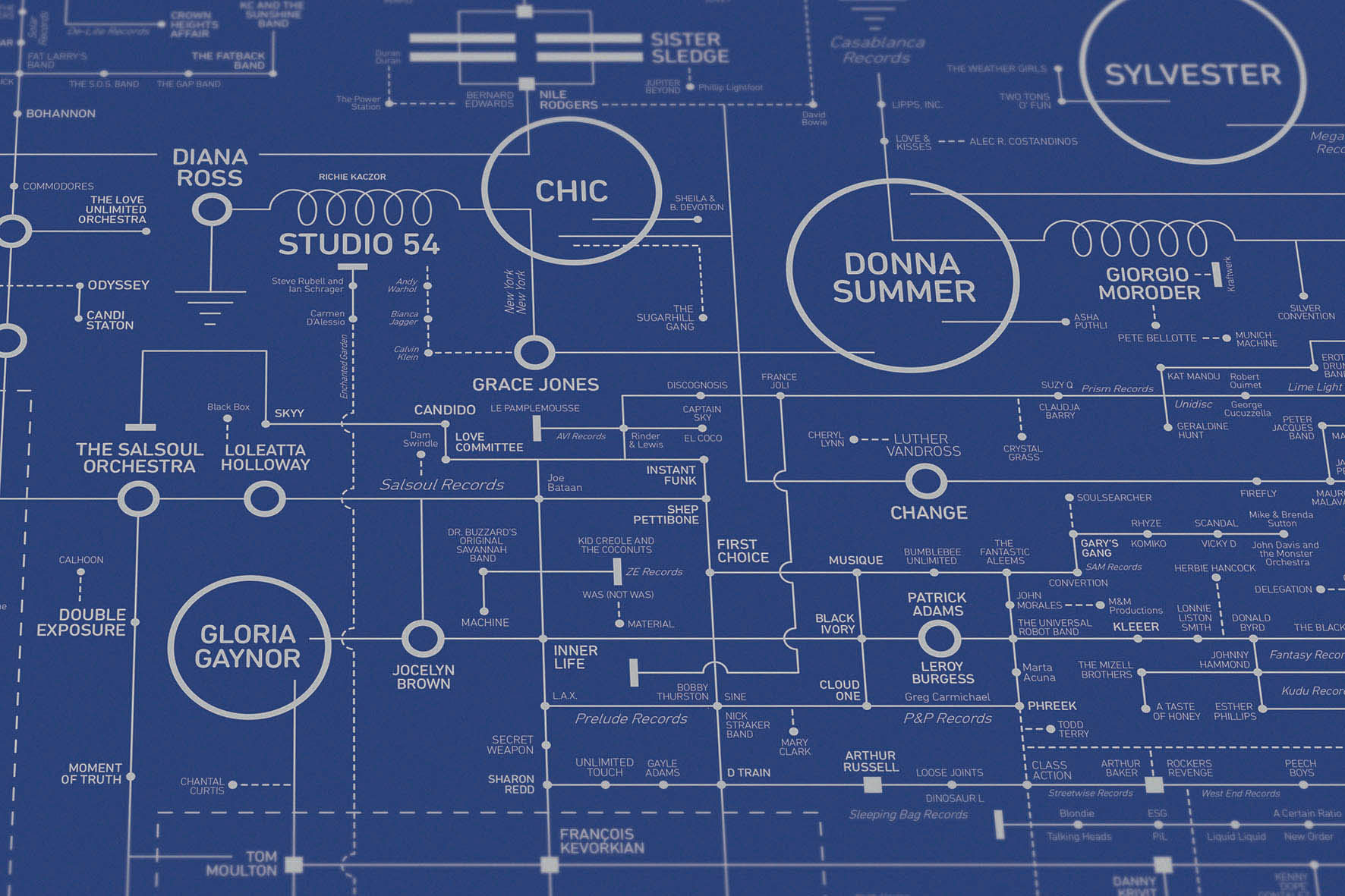 In Bill Brewster's Last Night a DJ Saved My Life: The History of the Disc Jockey, Mancuso's audio engineer, Alex Rosner, recalled the Loft's clientele as being "probably about sixty percent black and seventy percent gay:"
There was a mix of sexual orientation, there was a mix of races, mix of economic groups. A real mix, where the common denominator was music.
One can't mention the music at The Loft without giving props to the innovative and efficient sound system Rosner devised for Mancuso's 1,850-square-foot space, using a McIntosh amplifier, an AR amplifier, Vega bass bottom speakers, and two Klipschorn Cornwall loudspeakers, whose circuit diagram inspired the Disco Love Blueprint's layout.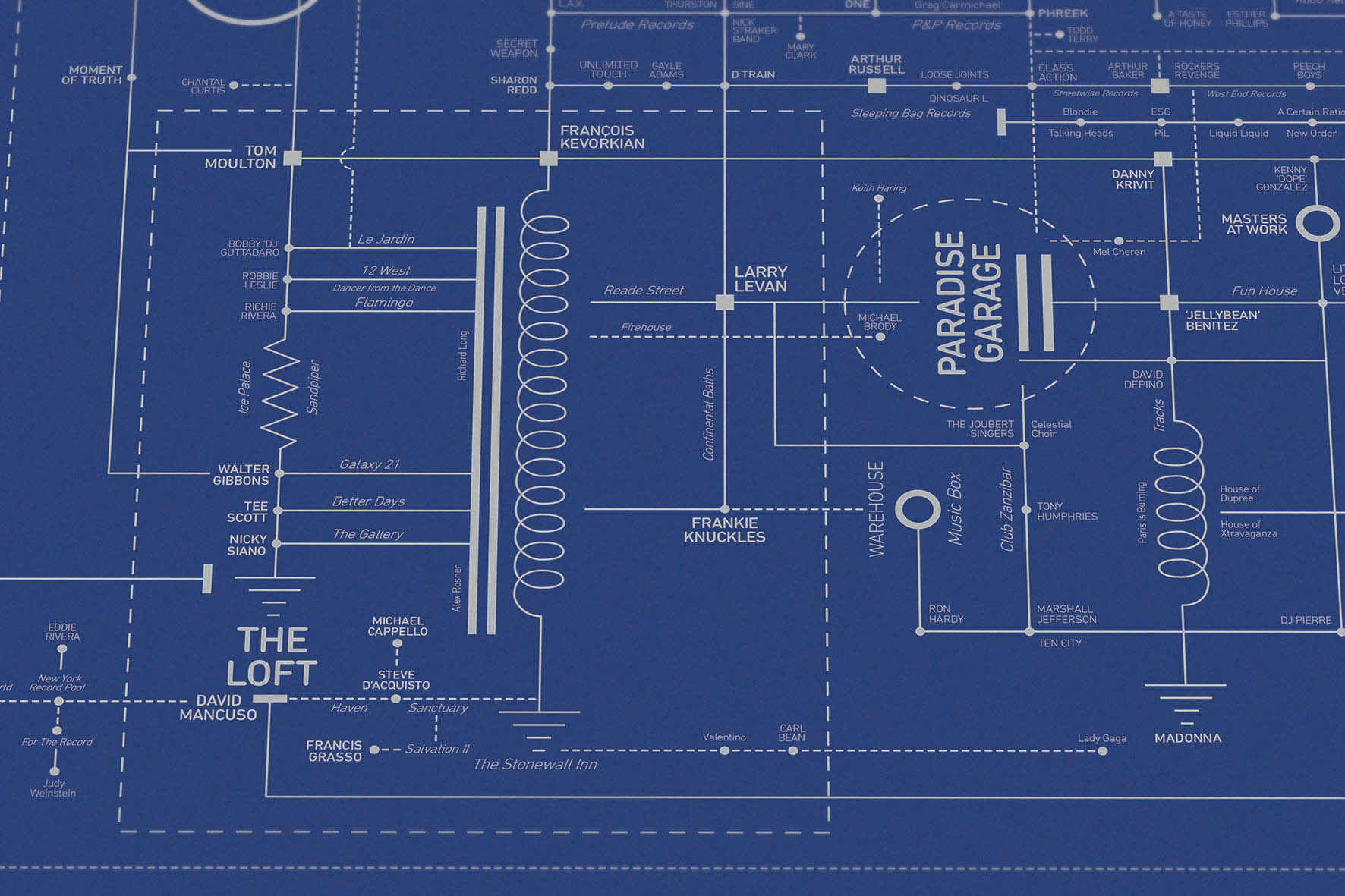 As composer and producer Matt Sommers told The Vinyl Factory, those speakers surrounded dancers with the sort of high volume, undistorted sound they could lose themselves in:
…the Mancuso parties were unique because what he did was take it to a whole other level and created that envelopment experience where you could really get lost and I think that's what people love about that, because you can just let your troubles go and enjoy it.
Get Dorothy's Disco Love Blueprint, featuring 600 musicians, DJs, producers, clubs and record labels here.
Related Content
The History of Jazz Visualized on a Circuit Diagram of a 1950s Phonograph: Features 1,000+ Musicians, Artists, Songwriters and Producers
The History of Rock Mapped Out on the Circuit Board of a Guitar Amplifier: 1400 Musicians, Songwriters & Producers
Diagram of a 1950s Theremin: 200 Inventors, Composers & Musicians
A History of Alternative Music Brilliantly Mapped Out on a Transistor Radio Circuit Diagram: 300 Punk, Alt & Indie Artists
The History of Hip Hop Music Visualized on a Turntable Circuit Diagram: Features 700 Artists, from DJ Kool Herc to Kanye West
How Giorgio Moroder & Donna Summer's "I Feel Love" Created the "Blueprint for All Electronic Dance Music Today" (1977)
The Untold Story of Disco and Its Black, Latino & LGBTQ Roots
– Ayun Halliday is the Chief Primatologist of the East Village Inky zine and author, most recently, of Creative, Not Famous: The Small Potato Manifesto and Creative, Not Famous Activity Book. Follow her @AyunHalliday.