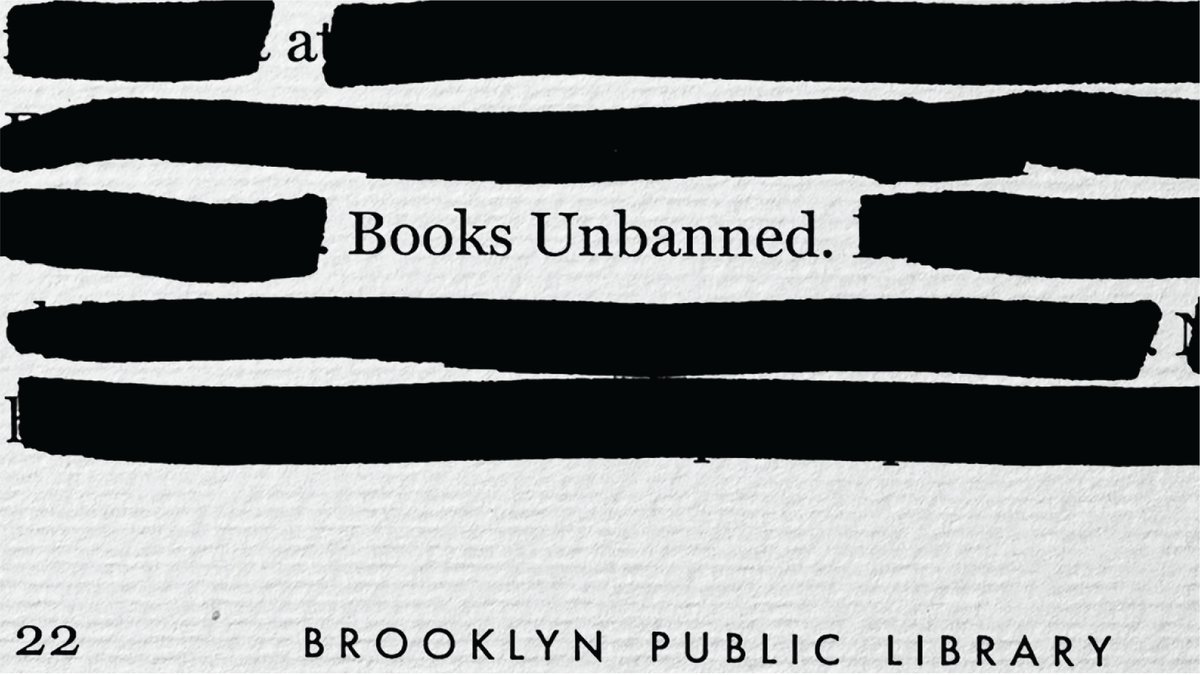 We have cov­ered it before: school dis­tricts across the Unit­ed States are increas­ing­ly cen­sor­ing books that don't align with con­ser­v­a­tive, white-washed visions of the world. Art Spiegel­man's Maus, The Illus­trat­ed Diary of Anne Frank, Alice Walk­er's The Col­or Pur­ple, Toni Mor­rison's The Bluest Eye, and Harp­er Lee's To Kill a Mock­ing­bird–these are some of the many books get­ting pulled from library shelves in Amer­i­can schools. In response to this con­cern­ing trend, the Brook­lyn Pub­lic Library has made a bold move: For a lim­it­ed time, the library will offer a free eCard to any per­son aged 13 to 21 across the Unit­ed States, allow­ing them free access to 500,000 dig­i­tal books, includ­ing many cen­sored books. The Chief Librar­i­an for the Brook­lyn Pub­lic Library, Nick Hig­gins said:
A pub­lic library rep­re­sents all of us in a plu­ral­is­tic soci­ety we exist with oth­er peo­ple, with oth­er ideas, oth­er view­points and per­spec­tives and that's what makes a healthy democ­ra­cy — not shut­ting down access to those points of view or silenc­ing voic­es that we don't agree with, but expand­ing access to those voic­es and hav­ing con­ver­sa­tions and ideas that we agree with and ideas that we don't agree with.
And he added:
This is an intel­lec­tu­al free­dom to read ini­tia­tive by the Brook­lyn Pub­lic Library. You know, we've been pay­ing atten­tion to a lot of the book chal­lenges and bans that have been tak­ing place, par­tic­u­lar­ly over the last year in many places across the coun­try. We don't nec­es­sar­i­ly expe­ri­ence a whole lot of that here in Brook­lyn, but we know that there are library patrons and library staff who are fac­ing these and we want­ed to fig­ure out a way to step in and help, par­tic­u­lar­ly for young peo­ple who are see­ing, some books in their library col­lec­tions that may rep­re­sent them, but they're being tak­en off the shelves.
As for how to get the Brook­lyn Pub­lic Library's free eCard, their Books Unbanned web­site offers the fol­low­ing instruc­tions: "indi­vid­u­als ages 13–21 can apply for a free BPL eCard, pro­vid­ing access to our full eBook col­lec­tion as well as our learn­ing data­bas­es. To apply, email booksunbanned@bklynlibrary.org." In short, send them an email.
You can find a list of Amer­i­ca's most fre­quent­ly banned books at the web­site of the Amer­i­can Library Asso­ci­a­tion.
Note: We first post­ed about this ini­tia­tive dur­ing the dog days of last August. But it seemed worth men­tion­ing this pro­gram while school's in full swing. Hence why we're flag­ging Books Unbanned again.
If you would like to sign up for Open Culture's free email newslet­ter, please find it here.
If you would like to sup­port the mis­sion of Open Cul­ture, con­sid­er mak­ing a dona­tion to our site. It's hard to rely 100% on ads, and your con­tri­bu­tions will help us con­tin­ue pro­vid­ing the best free cul­tur­al and edu­ca­tion­al mate­ri­als to learn­ers every­where. You can con­tribute through Pay­Pal, Patre­on, and Ven­mo (@openculture). Thanks!
Relat­ed Con­tent
Texas School Board Bans Illus­trat­ed Edi­tion of The Diary of Anne Frank
Ten­nessee School Board Bans Maus, the Pulitzer-Prize Win­ning Graph­ic Nov­el on the Holo­caust; the Book Becomes #1 Best­seller on Ama­zon
The 850 Books a Texas Law­mak­er Wants to Ban Because They Could Make Stu­dents Feel Uncom­fort­able
Umber­to Eco Makes a List of the 14 Com­mon Fea­tures of Fas­cism