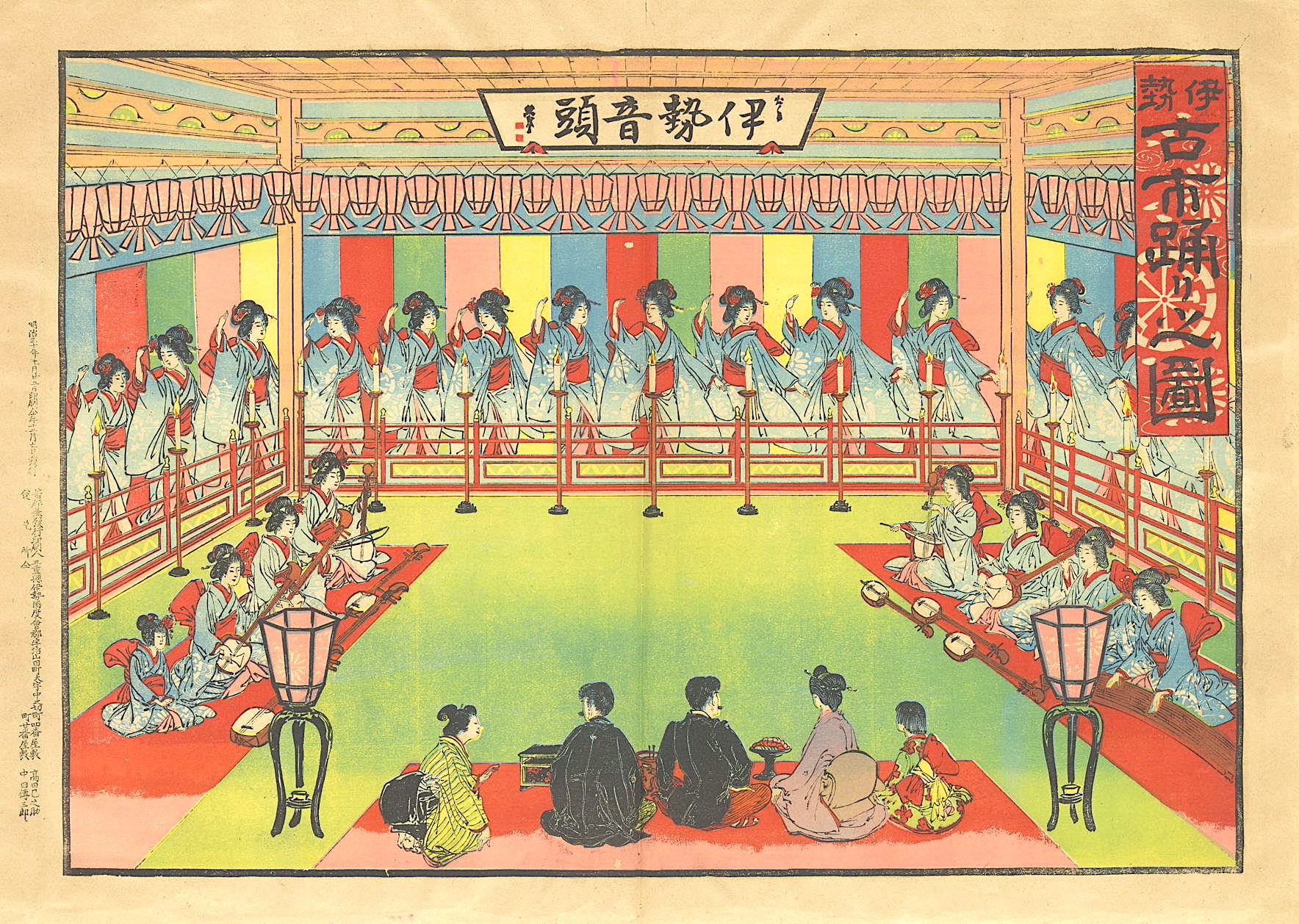 The phrase "open­ing of Japan" is a euphemism that has out­lived its pur­pose, serv­ing to cloud rather than explain how a coun­try closed to out­siders sud­den­ly, in the mid-19th cen­tu­ry, became a major influ­ence in art and design world­wide. Nego­ti­a­tions were car­ried out at gun­point. In 1853, Com­modore Matthew Per­ry pre­sent­ed the Japan­ese with two white flags to raise when they were ready to sur­ren­der. (The Japan­ese called Perry's fleet the "black ships of evil men.") In one of innu­mer­able his­tor­i­cal ironies, we have this ugli­ness to thank for the explo­sion of Impres­sion­ist art (van Gogh was obsessed with Japan­ese prints and owned a large col­lec­tion) as well as much of the beau­ty of Art Nou­veau and mod­ernist archi­tec­ture at the turn of the cen­tu­ry.
We may know ver­sions of this already, but we prob­a­bly don't know it from a Japan­ese point of view. "As our glob­al soci­ety grows ever more con­nect­ed," writes Katie Bar­rett at the Inter­net Archive blog, "it can be easy to assume that all of human his­to­ry is just one click away. Yet lan­guage bar­ri­ers and phys­i­cal access still present major obsta­cles to deep­er knowl­edge and under­stand­ing of oth­er cul­tures."
Unless we can read Japan­ese, our under­stand­ing of its his­to­ry will always be informed by spe­cial­ist schol­ars and trans­la­tors. Now, at least, thanks to coop­er­a­tion between the Uni­ver­si­ty of Tokyo Gen­er­al Library and the Inter­net Archive, we can access thou­sands more pri­ma­ry sources pre­vi­ous­ly unavail­able to "out­siders."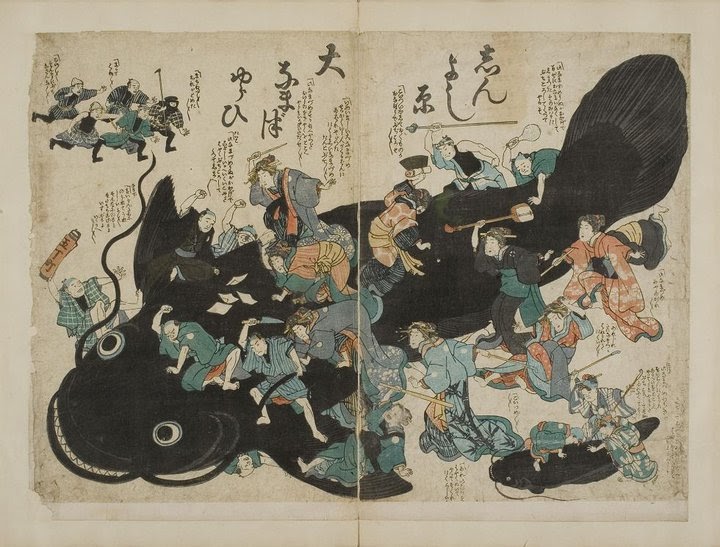 "Since June 2020," notes Bar­rett, "our Col­lec­tions team has worked in tan­dem with library staff to ingest thou­sands of dig­i­tal files from the Gen­er­al Library's servers, map­ping the meta­da­ta for over 4,000 price­less scrolls, texts, and papers." This mate­r­i­al has been dig­i­tized over decades by Japan­ese schol­ars and "show­cas­es hun­dreds of years of rich Japan­ese his­to­ry expressed through prose, poet­ry, and art­work." It will be pri­mar­i­ly the art­work that con­cerns non-Japan­ese speak­ers, as it pri­mar­i­ly con­cerned 19th-cen­tu­ry Euro­peans and Amer­i­cans who first encoun­tered the country's cul­tur­al prod­ucts. Art­work like the humor­ous print above. Bar­rett pro­vides con­text:
In one satir­i­cal illus­tra­tion, thought to date from short­ly after the 1855 Edo earth­quake, cour­te­sans and oth­ers from the demi­monde, who suf­fered great­ly in the dis­as­ter, are shown beat­ing the giant cat­fish that was believed to cause earth­quakes. The men in the upper left-hand cor­ner rep­re­sent the con­struc­tion trades; they are try­ing to stop the attack on the fish, as rebuild­ing from earth­quakes was a prof­itable busi­ness for them.
There are many such depic­tions of "seis­mic destruc­tion" in ukiyo‑e prints dat­ing from the same peri­od and the lat­er Mino-Owari earth­quake of 1891: "They are a sober­ing reminder of the role that nat­ur­al dis­as­ters have played in Japan­ese life."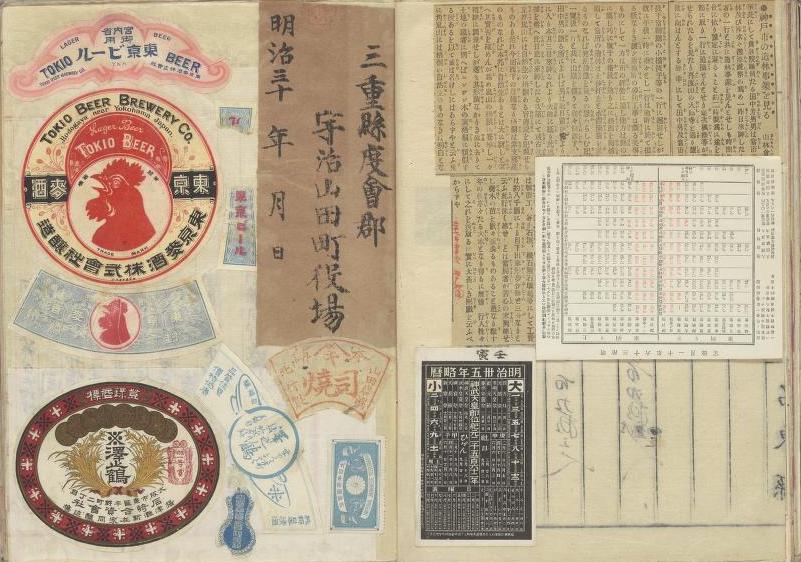 You can see many more dig­i­tized arti­facts, such as the charm­ing book of Japan­ese ephemera above, at the Inter­net Archive's Uni­ver­si­ty of Tokyo col­lec­tion. Among the 4180 items cur­rent­ly avail­able, you'll also find many Euro­pean prints and engrav­ings held in the library's 25 col­lec­tions. All of this mate­r­i­al "can be used freely with­out pri­or per­mis­sion," writes the Uni­ver­si­ty of Tokyo Library. "Among the high­lights," Bar­rett writes, "are man­u­scripts and anno­tat­ed books from the per­son­al col­lec­tion of the nov­el­ist Mori Ōgai (1862–1922), an ear­ly man­u­script of the Tale of Gen­ji, [below] and a unique col­lec­tion of Chi­nese legal records from the Ming Dynasty." Enter the col­lec­tion here.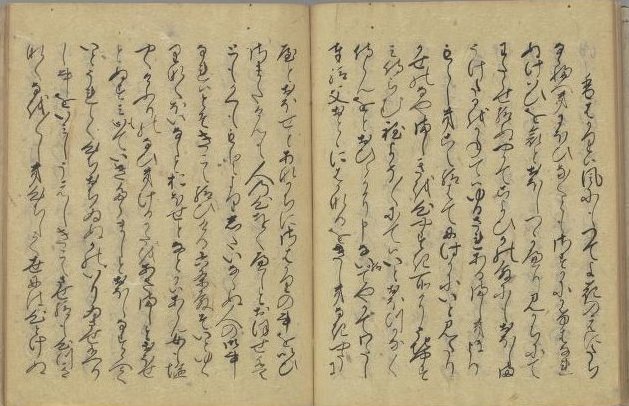 Relat­ed Con­tent:
Watch the Mak­ing of Japan­ese Wood­block Prints, from Start to Fin­ish, by a Long­time Tokyo Print­mak­er
Watch Vin­tage Footage of Tokyo, Cir­ca 1910, Get Brought to Life with Arti­fi­cial Intel­li­gence
Down­load Clas­sic Japan­ese Wave and Rip­ple Designs: A Go-to Guide for Japan­ese Artists from 1903
Down­load Vin­cent van Gogh's Col­lec­tion of 500 Japan­ese Prints, Which Inspired Him to Cre­ate "the Art of the Future"
Josh Jones is a writer and musi­cian based in Durham, NC. Fol­low him at @jdmagness